Dining Experience
At The Village at Buckland Court, we pride ourselves on the fabulous dining experiences we provide. Our Dining Services Director and Chef create surprising and inspired dishes that help our residents live a healthy lifestyle. But dining isn't just about the food. It's also a time to relax, catch up with friends, and meet some new ones, too. That's why our Dining Services Director is always seeking new, creative ways to delight our residents and exceed their expectations of what it means to dine well.

Inspired Dining at Benchmark Senior Living
The Village at Buckland Court takes a dedicated approach to providing every resident with a personalized dining experience. Our Dining Services Director meets with residents to discuss and understand their dietary needs, special requests, and favorite recipes. Residents can select from an assortment of menu choices designed with their health, tastes and preferences in mind.
Enjoy Fresh, Seasonally Inspired Choices
The Dining menus at Buckland Court offer residents a choice of traditional cuisine of our local area. As the seasons change, we offer variety by providing new and seasonally inspired choices. Special requests are welcome for individual dietary needs.
Talented Hospitality Professionals at Your Service
The Village at Buckland Court is proud to recruit and develop talented chefs and service professionals. Our chefs are masters at creating traditional meals as well as a selection of fresh, flavorful dishes that use low-sodium, heart-healthy cooking techniques. We use only the freshest meat, seafood, produce, herbs and spices.
Enjoy Heart-Healthy Dining
Benchmark Senior Living has developed a seasoning blend, Benchmark's Savory Sensation Salt Substitute, specifically for our residents. Developed by the Benchmark Culinary Team as part of our commitment to heart-healthy dining, Savory Sensation is the perfect alternative for residents on low-sodium diets.
Sensory Dining
Our Sensory Dining program brings the vibrancy of the kitchen into the communal nature of the dining room, allowing residents to enjoy all of the sights, sounds, smells, and activity that naturally comes with the preparation of a wonderful meal.
Resident Choice Dining
Resident Choice Dining is Benchmark's unique dining program that encourages residents to make their own meal choices using verbal and visual cues. Giving our residents the opportunities to select their meals—from their entrée, to their salad dressing, to their favorite dessert toppings—helps them to feel successful every day.
Bring the Whole Family
Enjoy a meal with us on your visit to Buckland Court. It is our pleasure to make special arrangements specifically for birthdays, anniversaries or a family gathering. You can always arrange private dining accommodations with your Dining Services Director—even request special menu items like your favorite meal or a cherished family recipe.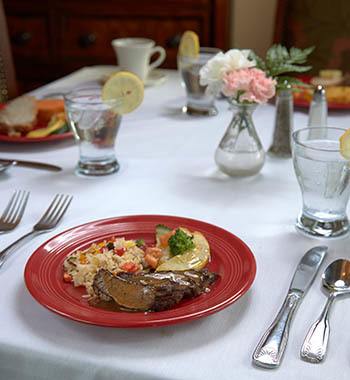 Special Dining Programs
Textured Modified Dining
The Textured Modified Dining program provides great tasting and nutritious pureed meals with a twist. Delicious foods are prepared, blended, reformed with special molds, and attractively placed on the plate in their original shape, creating a much more enjoyable dining experience for all.