Respite Care
at Whisper Woods of Smithtown
We understand the role of family caregiver is often a demanding one. While it can be rewarding to care for someone who cared for you, caregivers need to take breaks on a regular basis to renew their energy and spirit. To take time to care for their own health, take a trip with their children, or to attend to personal business. For families on Long Island, Whisper Woods of Smithtown respite care can be a solution.
Situated on a wooded campus across from St. Catherine Medical Center in Smithtown, Whisper Woods of Smithtown offers both assisted living and memory care for adults with dementia. Residents who join us for a short-term respite stay receive the same care, services, and support as our long-term residents.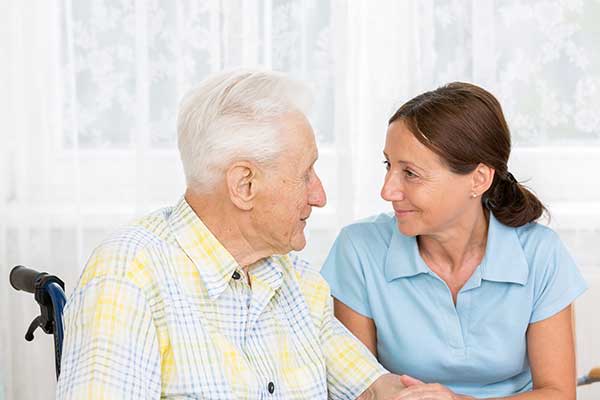 Put Your Trust in an Experienced Senior Living Provider
Knowing a loved one is in the hands of an experienced team of caregivers like the Associates at Whisper Woods of Smithtown can give families the peace of mind they need to relax and enjoy their caregiver respite. Our Associates are hired for their demonstrated commitment to compassion and empathy and trained for excellence.
It also helps families to know that our parent company, Benchmark Senior Living, has two decades of experience working with older adults. This wealth of knowledge enables us to create the processes and systems our Associates need to help each resident, including our short-term respite guests, thrive.
Respite Care Services and Amenities at Whisper Woods
Here are some of the many services and amenities our respite care residents benefit from during their short-term stay:
Leadership team members on-site seven days a week
Around-the-clock care provided by a consistent team of familiar caregivers
Medication management and oversight
Sensory dining to encourage the appetite of adults with dementia
Texture-modified dining to help residents who have swallowing disorders enjoy meals that look more like traditional meals
Three nutritious daily meals with choices to please every palate and an ability to accommodate special diets
An opportunity to participate in any of the programs and activities scheduled each day
Learn More about Respite Care
If you have questions about respite care or would like to schedule a private tour to learn more, we welcome your visit.