Social engagement designed around our residents'
interests, goals and dreams.
Physical activity delivered by trained associates and personalized to each resident's ability
Benchmark Strong works to improve balance, posture and alignment
Tai Chi/Qigong to assist in preventing falls
Barre classes for building muscle and increasing balance
Chair and traditional yoga to support flexibility
Dancing for cardiovascular health
Stretching classes to improve joint mobility and range of motion


Fun programs to help keep residents engaged in community life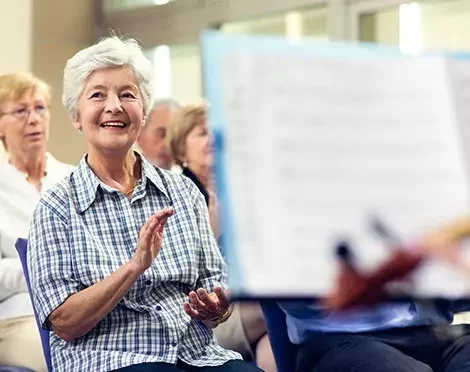 Indoor and outdoor concerts
Programs to help residents continue growing and working towards their goals
Lifelong learning seminars

Volunteer opportunities

Therapeutic indoor and outdoor gardening

Intergenerational programs

Religious services
Individualized programs offered in parallel with group programs
Benchmark Dream Now makes residents' bucket-list wishes come true
Birthday and anniversary parties
Brain in Play to help prevent and treat neurodegenerative diseases
Rendever virtual reality for exploring individual interests
Eversound audio programs to assist those with hearing impairment
A wide variety of resident groups catering to various interests
Resident Councils that empower residents
Book discussion groups
Gardening clubs
Men's and women's groups
Choirs
Places to pursue interests and passions privately or in a group setting
Recreation rooms for crafts and games
Creative spaces for painting, quilting and other arts programs
Resident art galleries offering visual stimulation
Computer labs with internet access
Movie theatres
Libraries and game rooms
Beautifully landscaped spaces to get some fresh air, move, connect or recharge
Patios with fire features and grills
Walking paths in thoughtful locations
Raised resident garden beds
Gazebos, outdoor tents and other special features
Landscaped gardens
Help with the little things so our residents have the time to indulge in their interests.
Assistance with scheduling transportation, appointments and more
Scheduled local transportation to events, shopping and appointments
Weekly housekeeping service
Laundry and linen service
Financial Concierge services provide options and solutions to help individuals gain the lifestyle they deserve.
They can help you:
Access short-term financing
Secure Veteran's benefits*
SETTING THE STANDARD
Let us help you find the perfect home for yourself or a loved one.
Over the past 24 years, we've come to set the standard by which all others are measured. Our independent living, assisted living, mind and memory care and skilled nursing communities in seven states across the Northeast offer unmatched amenities and services.
Learn more about what it's like to experience life
at a Benchmark community
Amenities and programming vary by community. Please consult the Director of Community Relations for additional information. 
*For non-Benchmark residents who begin the VA benefits process and choose not to move into a Benchmark community, as allowed by VA guidelines, an initial pre-filing analysis fee by the third-party provider will apply