Advice
•
Mind & Memory Care
Understanding Alzheimer's & Dementia: Providing Compassionate Care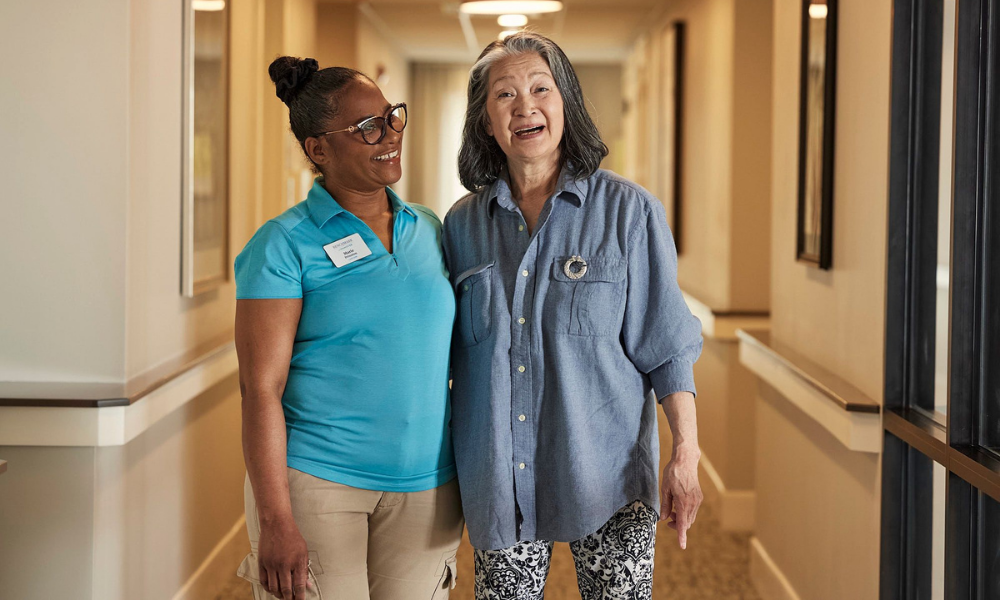 Taking the time to learn about Alzheimer's can profoundly impact the lives of those with this disease, as well as their loved ones. From recognizing the early warning signs and symptoms to knowing preventative measures, caring for someone with the disease and actively contributing to finding a cure, there are many ways for everyone to come together and reduce the uncertainties around Alzheimer's. Benchmark is here to offer these resources and support, not only to seniors with Alzheimer's, but also to their loved ones, caregivers, and their communities.
Benchmark's Mind and Memory Care Approach
"Dementia care is an artform and requires the specialized skills of a compassionate team of care partners. At a Benchmark Mind & Memory Care community, care is tailored to each individual's needs in an environment that encourages engagement, stimulates memories, and promotes connections at every stage of life."
-Michelle Tristani, Corporate Director of Mind & Memory Care at Benchmark Senior Living
A Mind and Memory Care Approach
A Mind and Memory Care (MMC) community is designed to keep residents with memory loss active, healthy and engaged through meaningful daily programming. Benchmark Senior Living offers customizable plans with different levels of support to connect with residents where they feel most comfortable. Activities include a mix of one-on-one and group activities like music programs, exercise classes, walking clubs, and off-site group trips to keep the brain sharp and residents interacting with people and the spaces around them.
Benchmark caregivers are trained to be aware of changes in routine and interests. Our team of specialists evaluate new residents prior to move-in to assess their cognitive and physical needs, as well as evaluating current residents on an ongoing basis in order to monitor any cognitive changes and make necessary care and activity adjustments.
Standing Out With Our Values
Benchmark Senior Living's Mind and Memory Care program stands out for several important reasons. Our dedication to dementia training is a cornerstone. We prioritize the education and development of our associates, ensuring they are well-equipped to provide top-level care to residents with Alzheimer's or dementia. We keep our staff updated on the latest care advances, allowing them to create personalized plans for each resident, promoting independence and engagement.
From the aides and dining team to the nurses, management, and maintenance staff, every associate is trained to create a compassionate environment with meaningful interactions.
Another standout feature is the wealth of experience our seasoned employees bring. With 47 communities featuring Mind and Memory Care neighborhoods and 11 memory care exclusive communities across Benchmark, our associates have accumulated years of practical knowledge and ongoing education for dementia care.
Benchmark Supporting the Whole Community
Supporting the Individual
At Benchmark, our mission is to "transform lives through meaningful human connection." This culture of caring means creating an environment that promotes safety and social engagement with trained, compassionate associates. When it comes to individuals living with Alzheimer's, we go the extra mile by providing specialized memory care programs that foster a sense of belonging and purpose. We believe that even in the face of cognitive challenges, every person deserves the opportunity to live a fulfilling life filled with moments of joy and connection.
Caring for the Caregiver
Being a caregiver to someone with dementia can be overwhelming. Benchmark understands the relief that can come from offering support, whether it's through respite care options, emotional support or assistance in decisions for assisted living or memory care. We are here to ease this burden. Benchmark associates offer expert support, education and a caring partnership to support those struggling with Alzheimer's.
Many of our Benchmark Senior Living communities with a mind & memory care neighborhood host or promote a Walk to End Alzheimer's. This serves as a wonderful opportunity to express your support for loved ones, raise awareness and funds, and connect with support networks in the community.
The Impact
By spreading awareness, providing compassionate care, and supporting each other, we pave the way for a brighter future. Together we can help alleviate the uncertainty, cherish connections, and ultimately, one day, find a cure. Thank you for joining us on this journey of understanding, support and advocacy.
To keep learning more, refer to our guide: Understanding Alzheimer's Disease: Signs, Slowing Progression and Getting Involved.
Download Now: Understanding Alzheimer's Disease