Memory Care
Dementia & Alzheimer's Care at

Benchmark Senior Living

Benchmark Memory Care is designed to help those with memory impairments stay active and engaged, supported by a caring staff, specialized programs, and a neighborhood designed just for them. The Memory Care Program is led by a Dementia Care Specialist who provides the programming, services and support to help residents feel secure, comfortable, and successful every day.

Caring for the Whole Person is at the

Heart of Our Memory Care

We offer an innovative and award-winning memory care program, Live Now, Live Engaged, that celebrates the spirit and supports the capabilities of each resident through individualized and group activities that encourage creativity and self-expression. Using research-based programming, we approach and appreciate each resident, and help them engage in six dimensions of wellness—physical, social, intellectual, emotional, purposeful and spiritual.
Safety and Comfort for Your Peace of Mind
People suffering from memory loss, Alzheimer's and dementia are prone to wandering, which can be extremely dangerous for the person and very worrisome for caregivers. We designed our Harbor Memory Care neighborhood with visual cues and themes to stimulate memory and help residents find their way, contrasting colors to help residents identify their surroundings, special lighting to reduce shadows in the common areas, electronic door security inside and out for safety, and comfortable, familiar furniture designed for the unique needs of seniors receiving treatment for Alzheimer's and dementia.

Memory Care at Benchmark Senior Living
Residents with Alzheimer's or other forms of dementia will find that memory loss isn't necessarily a barrier to a quality life. Our residents live in amenity-rich surroundings that are combined with appropriate programming to create Benchmark Memory Care.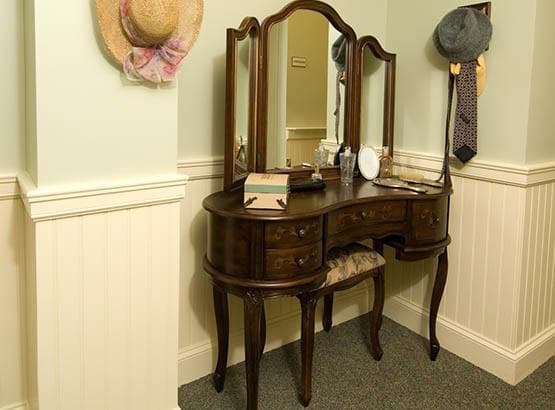 Exceptional Memory Care, supported by an experienced Certified Dementia Practitioner
Assistance with daily living, including physical, mobility & dining
Live Now, Live Engaged lifestyle for purposeful, meaningful, successful days
Personal Care Plans based on individual needs
Parallel Programming, the option to choose from personal and group activities every day
Leadership Presence Model, with management onsite 7 days a week
Medication Assistance
Family and Community Support Groups, forums, events and education
The Harbor Neighborhood & Dining